Thank you to the Norwalk Public Library for inviting our St. Paul High School band to perform at the Holiday Extravaganza.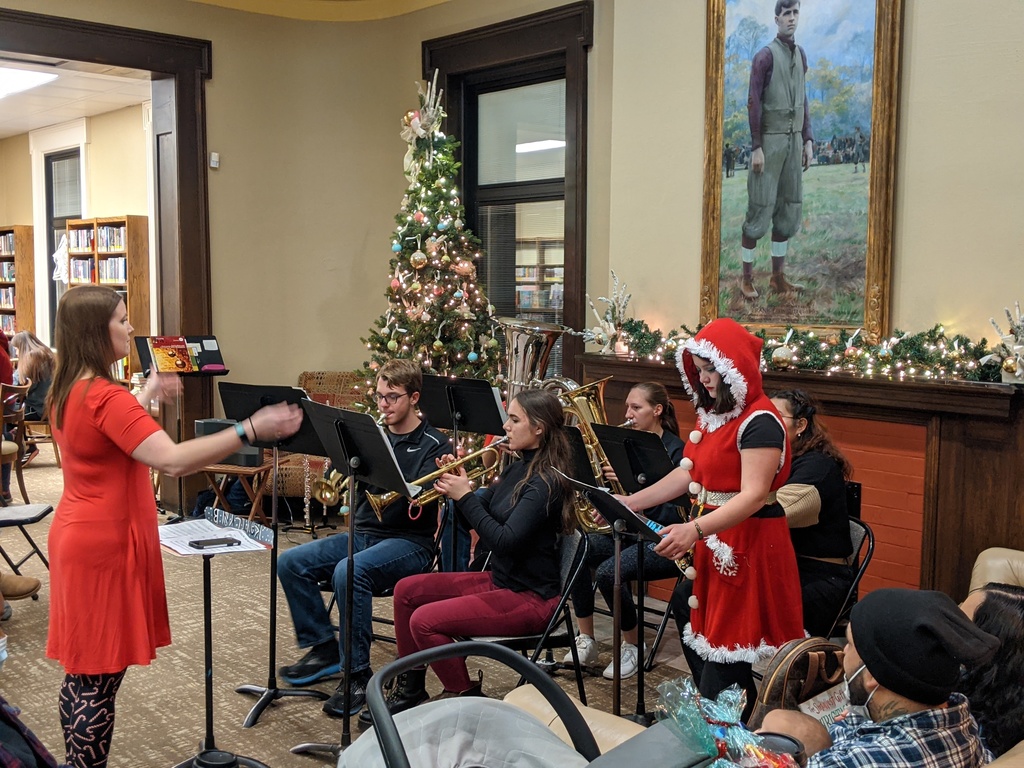 Our Flyer Leadership classes delivered over 200 Christmas cookies and holiday cards to 5 local nursing homes and spent time with residents.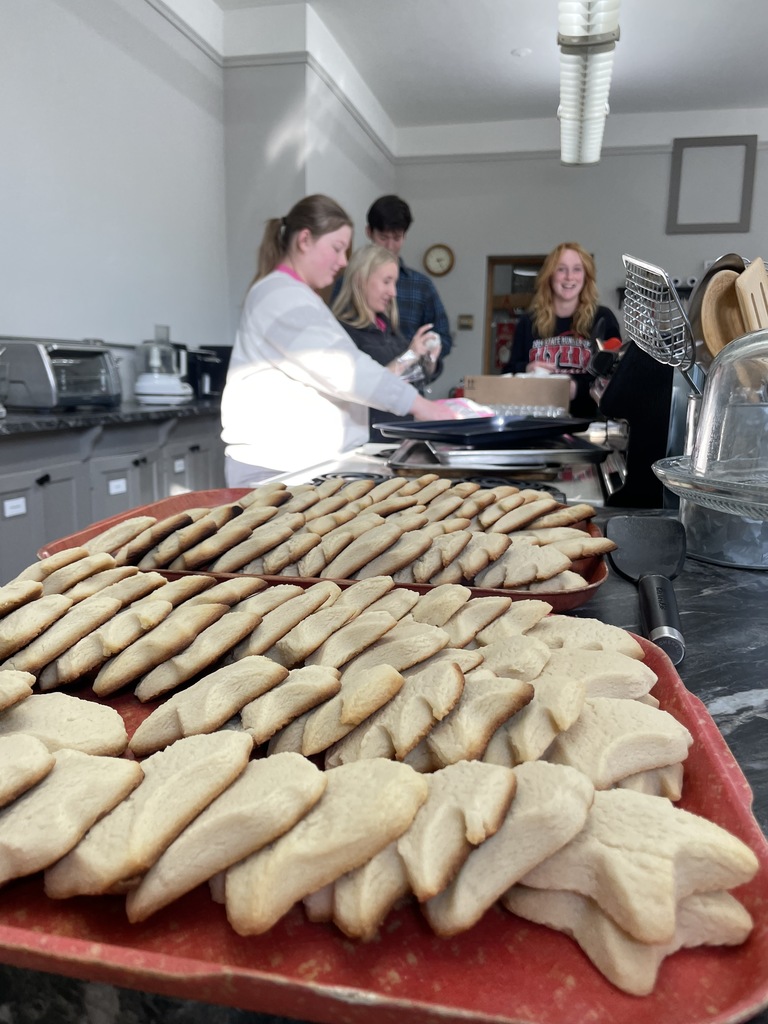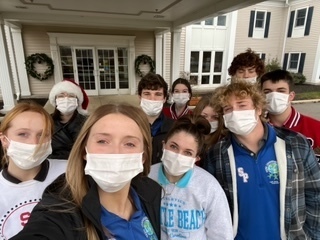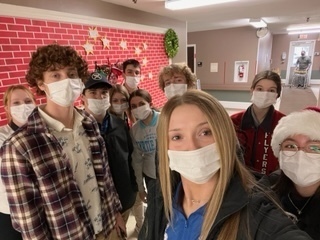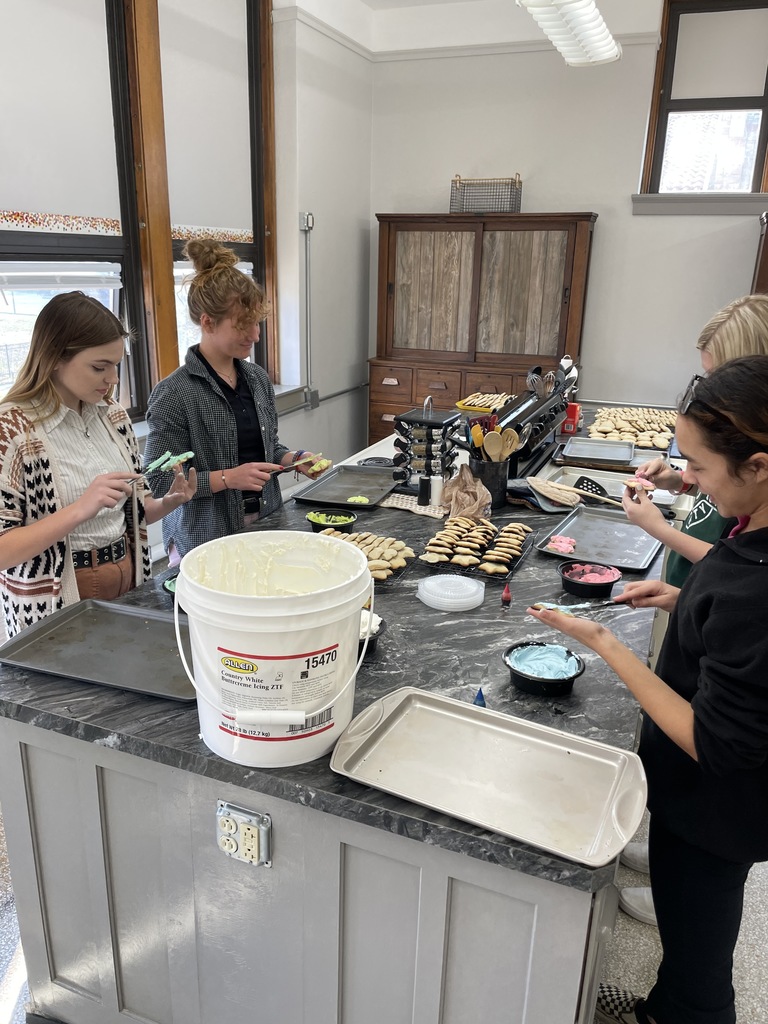 Important information regarding Saturday's home basketball games. Go Flyers!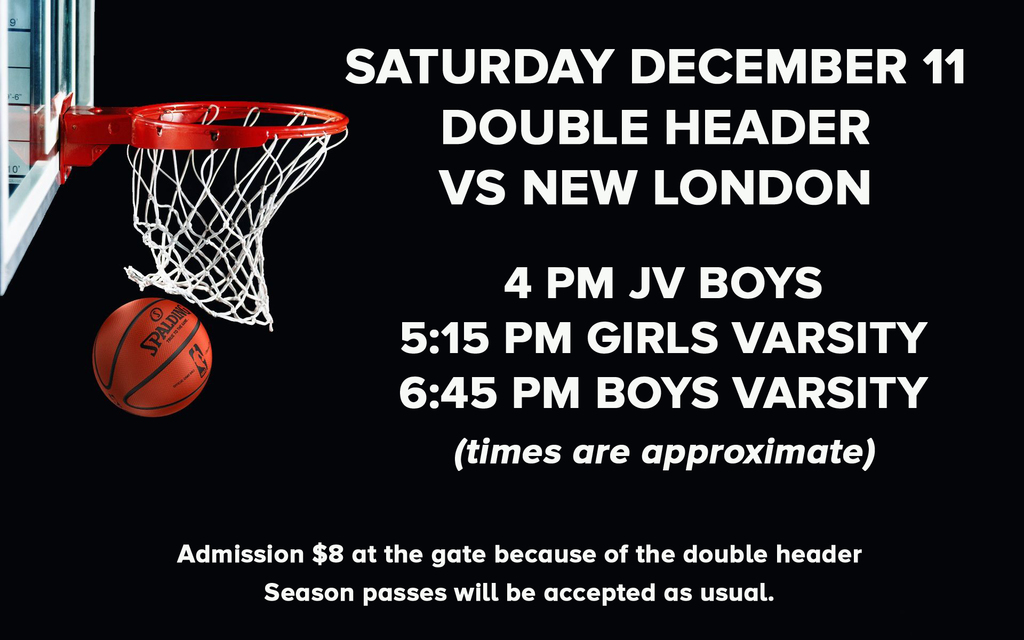 Elementary and High School Students will have a dress-down day for $1 this Friday, 12/10 to help a Flyer family in need.


Dear Parents/Guardians of 9th and 10th grade students, There will be a DC Trip meeting Monday, December 13th at 6pm in the Social Hall. The meeting should only last 30 minutes. At this meeting we will talk about: Cost The DC Trip handbook Take names for possible chaperones Students do not need to attend, but are welcome. If you cannot attend, please email Mr. Fair at
mfair@ncsmail.org
.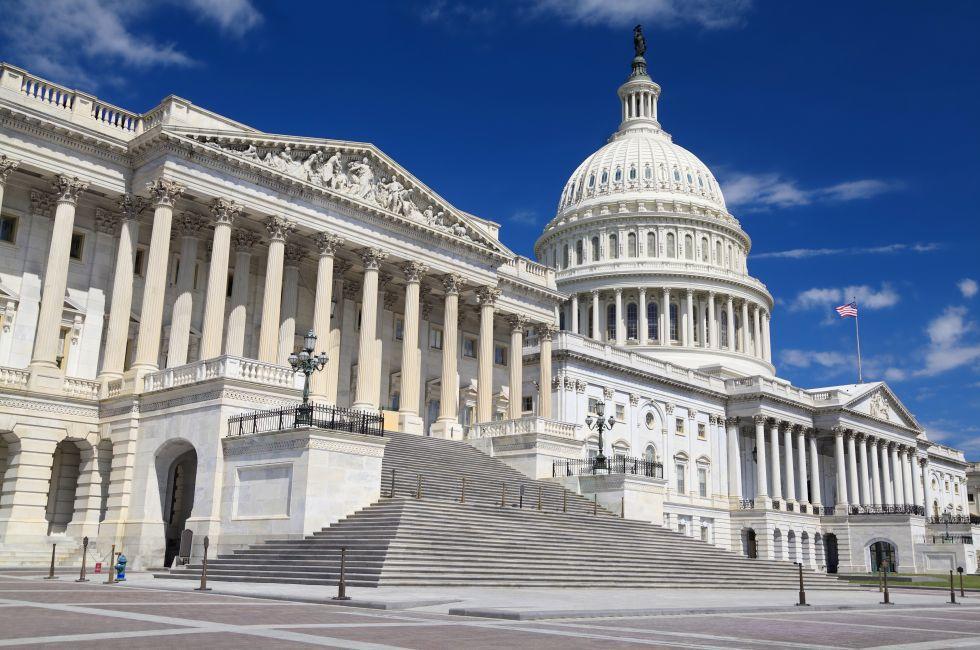 Mrs. Nickoli proudly shows off the Christmas Tree in the front office! The Front Office staff of the High School wanted to be sure to share the Christmas cheer with all of our students this advent season!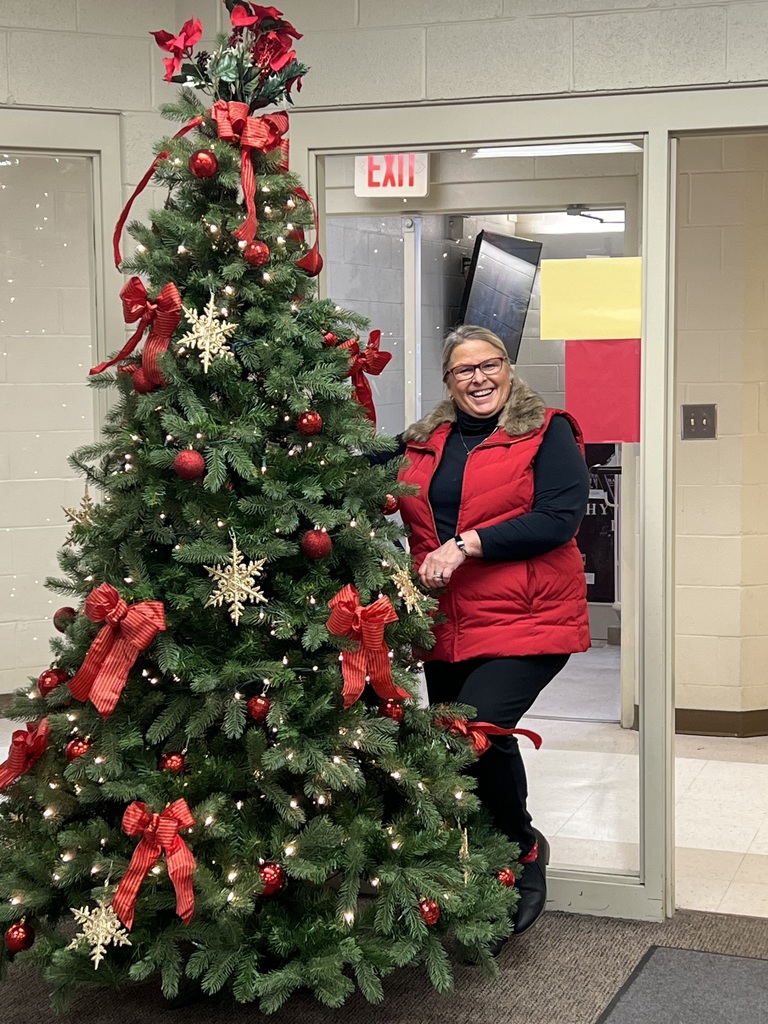 Thank you to Vermilion St. Mary, Huron St. Peter, Bellevue Immaculate Conception and Willard St. Francis for welcoming the St. Paul High School Choir. Our students enjoyed bringing music to the students and staff at these schools. Merry Christmas!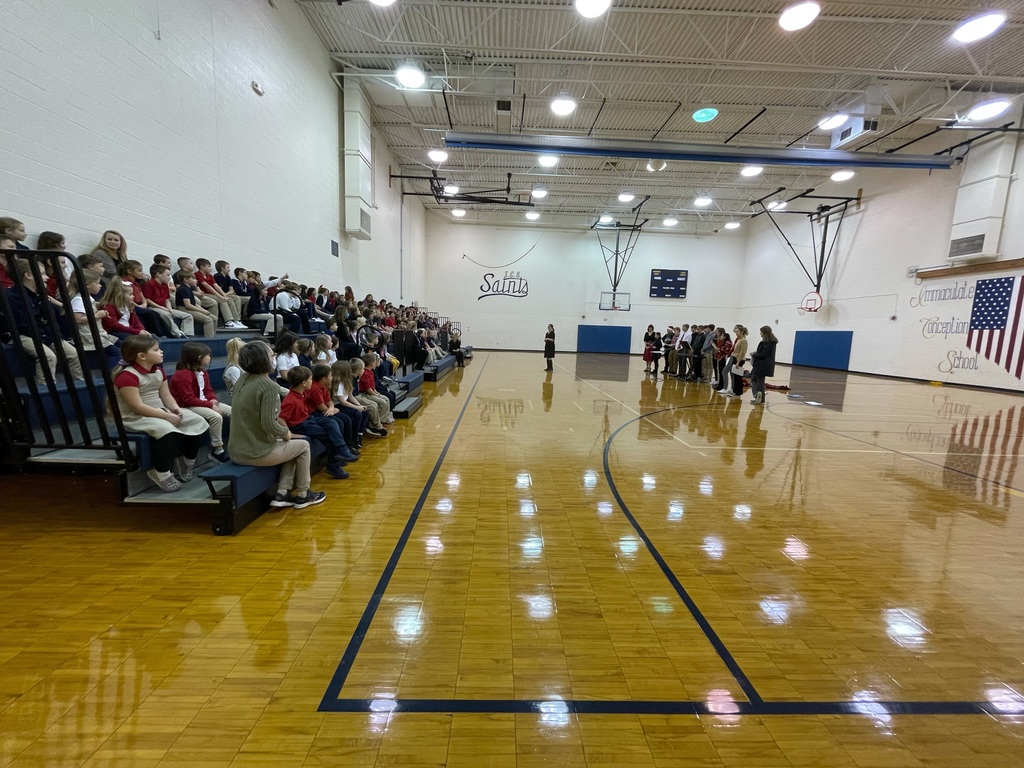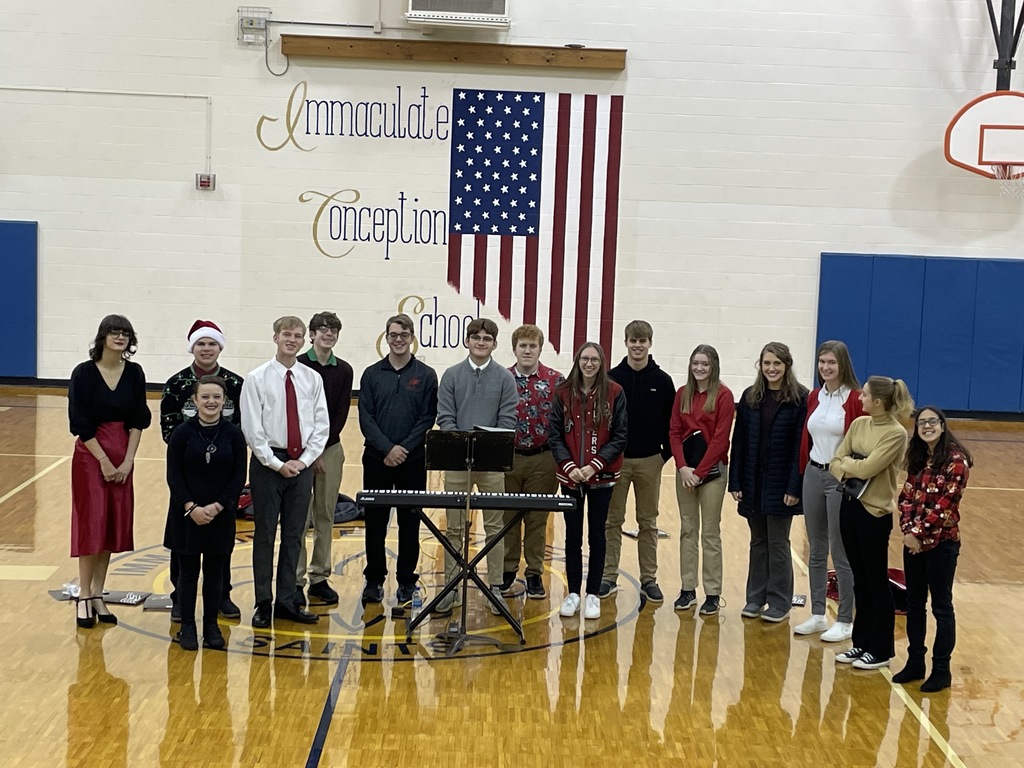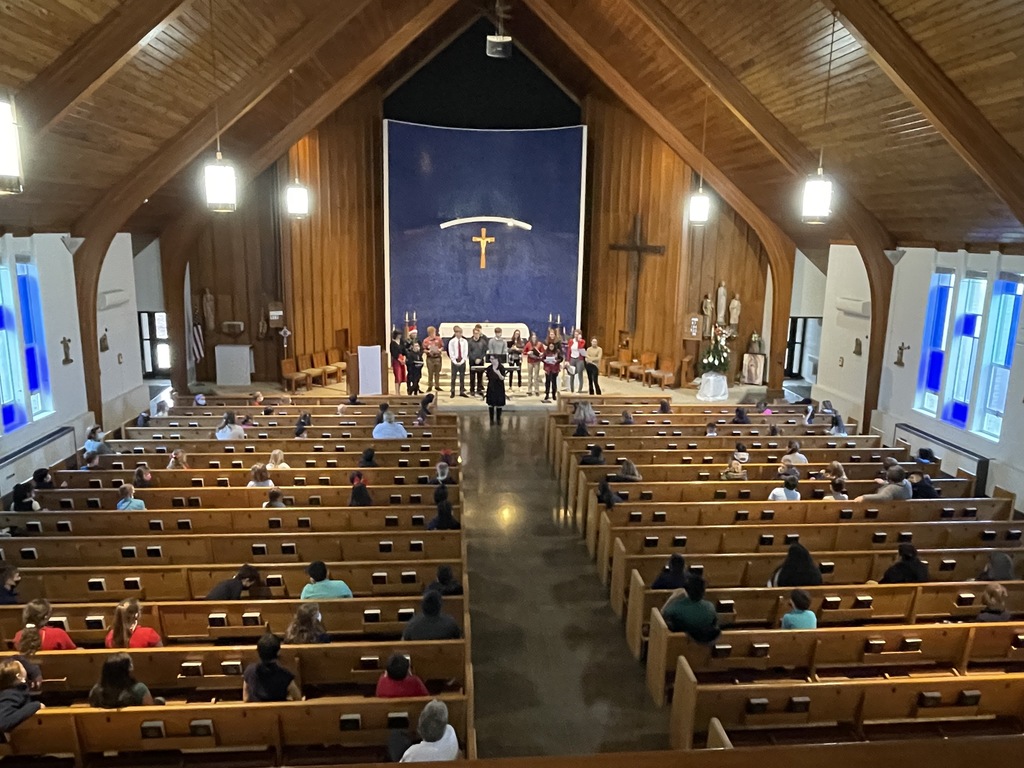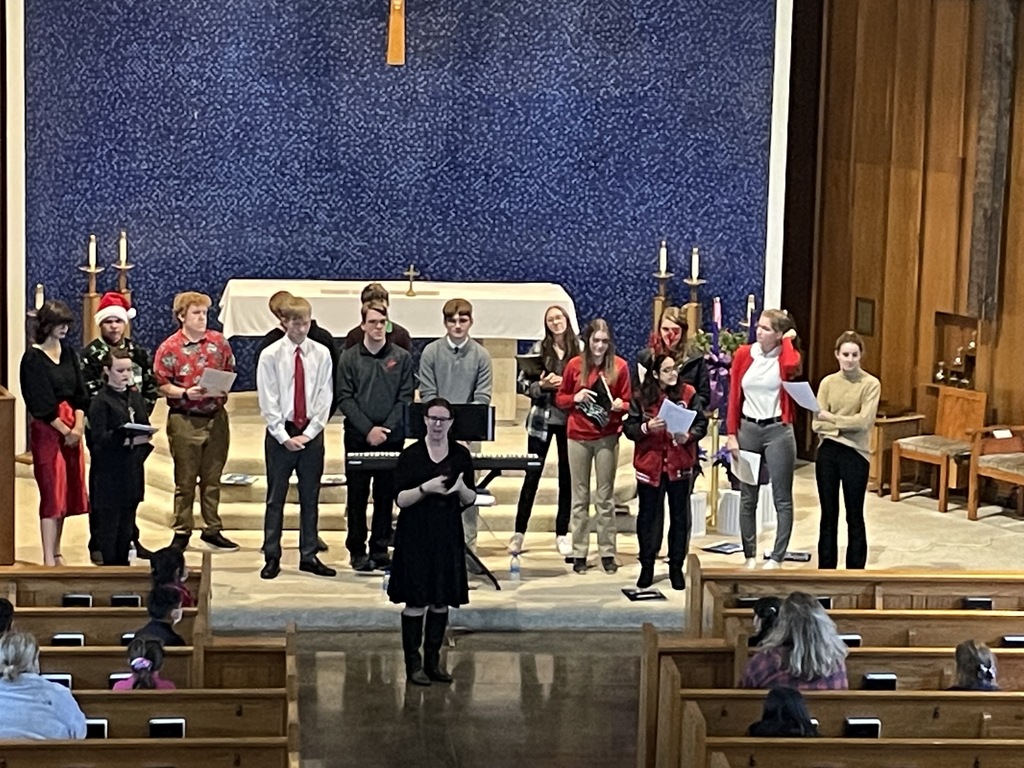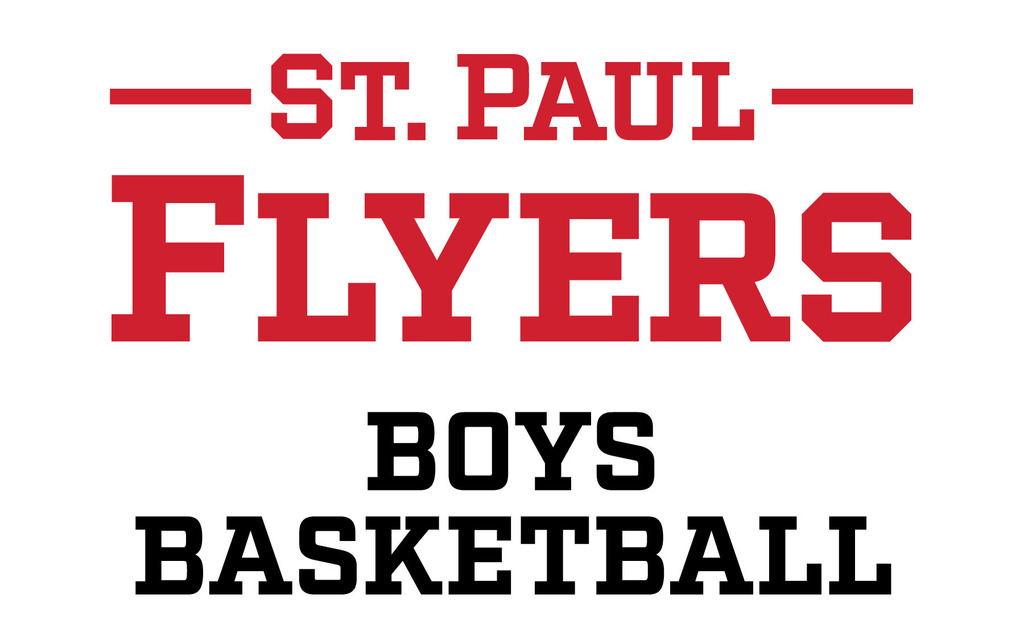 TOMORROW: Don't forget to bring the items for the deployed Ohio based 447th Military Police Co. See attached picture for everything they are collecting, choose your favorite and bring it to school tomorrow, December 3rd. This is part of a senior project led by seniors: Gage Hackenburg, Stephen McHale, Joseph Nill and Bryce Wnek. Thank you for your support this Christmas season.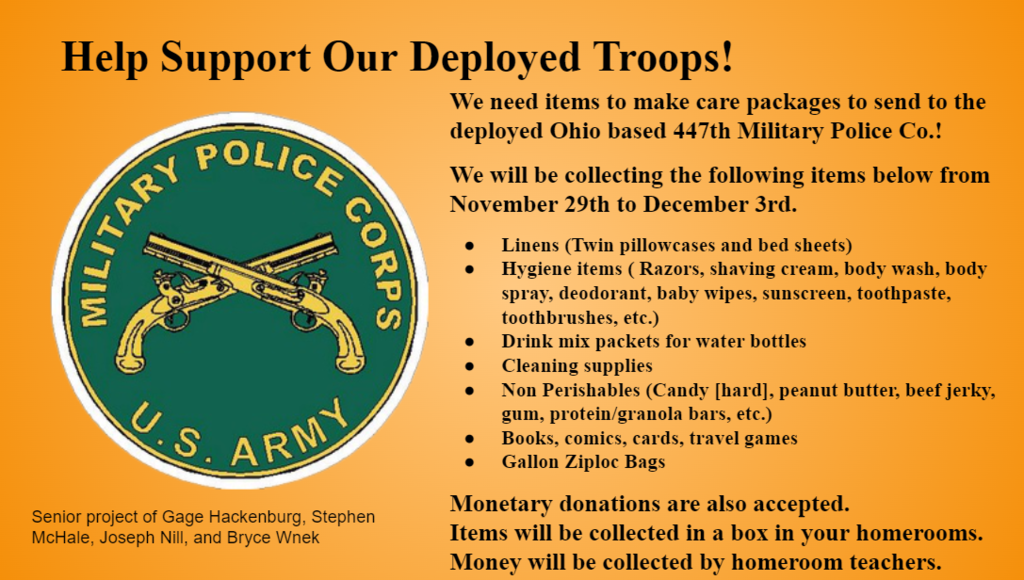 Winter Band Concert 2021 It is hard to believe, but concert season has arrived! This year, we are excited to have the band concert for the 5th Grade, 6th Grade, and 7th Grade bands at Norwalk Catholic and St. Paul Junior High. This year's concert will be held on Monday, December 6, 2021. Winter Band Concert 2021 Featuring the 5th, 6th, and 7th Grade Bands Monday, December 6, 2021 7:00 p.m. Joan C. Camp Auditorium (located in the Convocation foyer) Please drop off your child(ren) at 6:30 p.m. at the Convocation doors. Students should arrive, with instruments and music, and go to the cafeteria where they will be able to warm up, tune, and prepare for the concert. Students should dress nicely: a Christmas dress, polo, dress slacks, etc. Please no jeans or t-shirts. There will be a short intermission between each grade level's performance for people to enter and exit the auditorium based on their student's performance time. 5th Grade starts at 7:00 p.m. - - - 6th Grade starts at 7:20 p.m. - - -7th Grade starts at 7:40 p.m. If you have any questions, please contact Mrs. Faeth at
vfaeth@ncsmail.org
. Thank you! Mrs. Faeth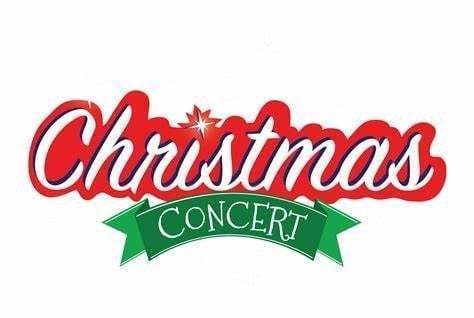 Thank you to everyone that participated and donated during our Giving Tuesday! Your generosity helped us to exceed our goal! We are so grateful to our Flyer Family who are invested in the Norwalk Catholic mission! May God bless you!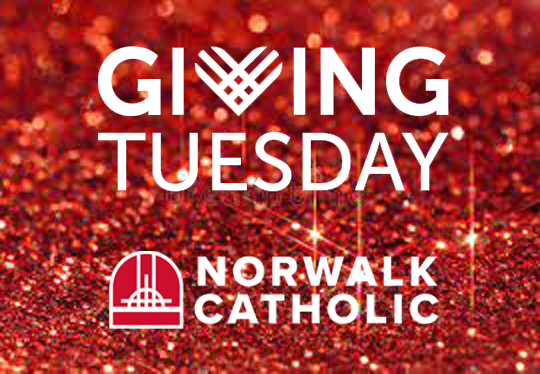 This Giving Tuesday, we ask you to support our Norwalk Catholic mission by giving online at:
https://www.norwalkcatholicschools.org/
Your contribution will make an impact, whether you donate $5 or $500. Every little bit helps.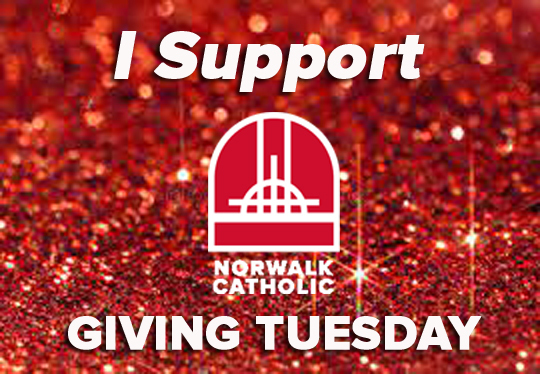 Norwalk Catholic supporters are the best! Many have contributed to our Giving Tuesday efforts - THANK YOU! Will you make a gift for a final push to reach our goal of $7,500?
https://www.norwalkcatholicschools.org/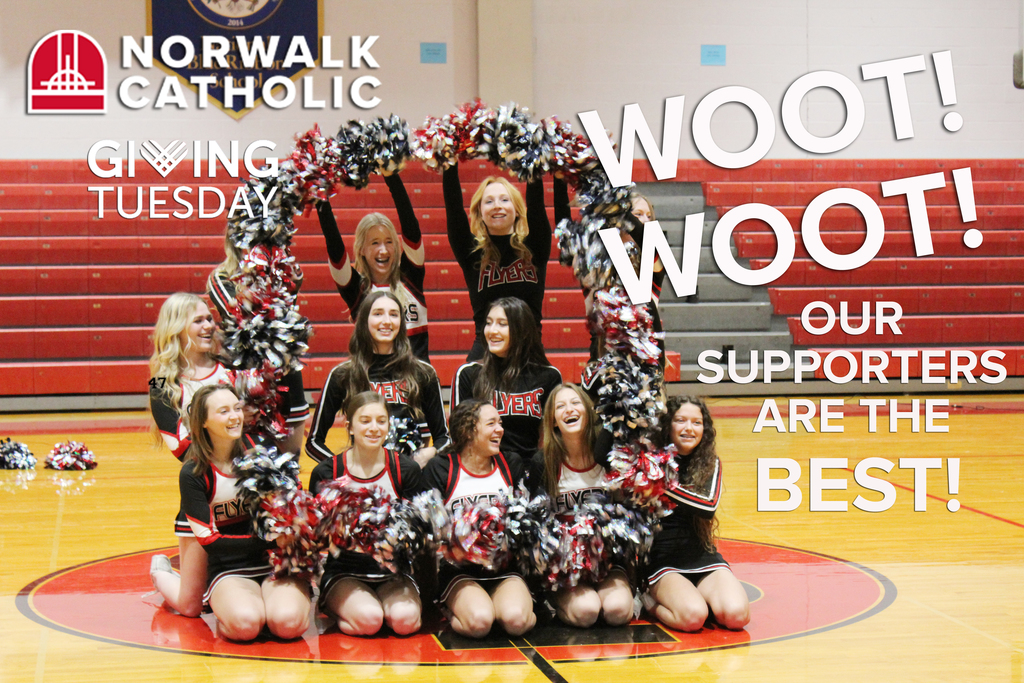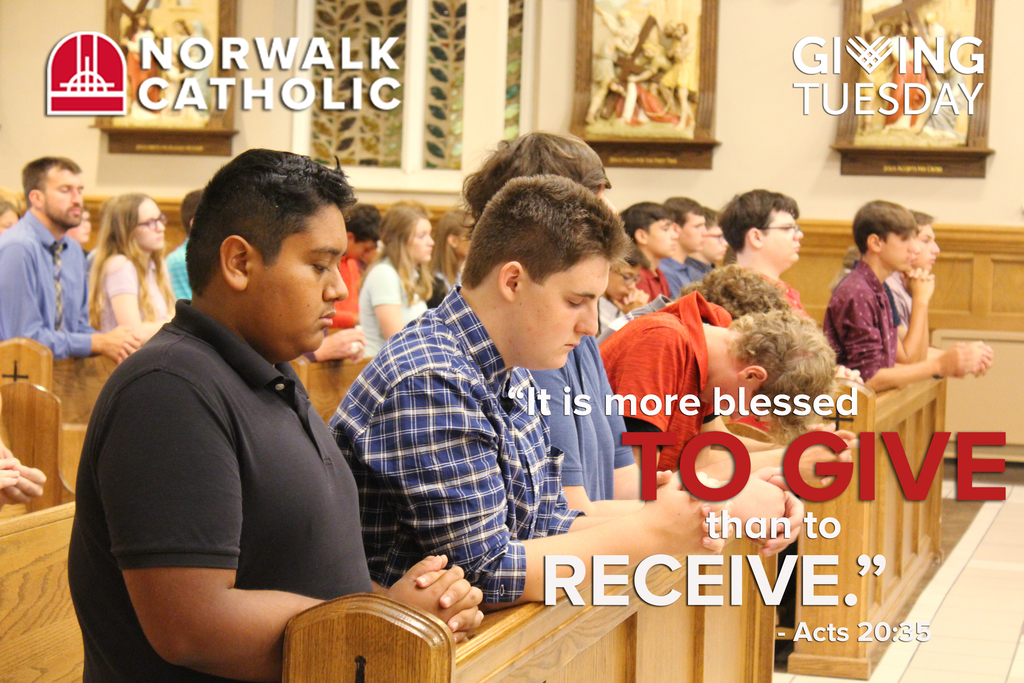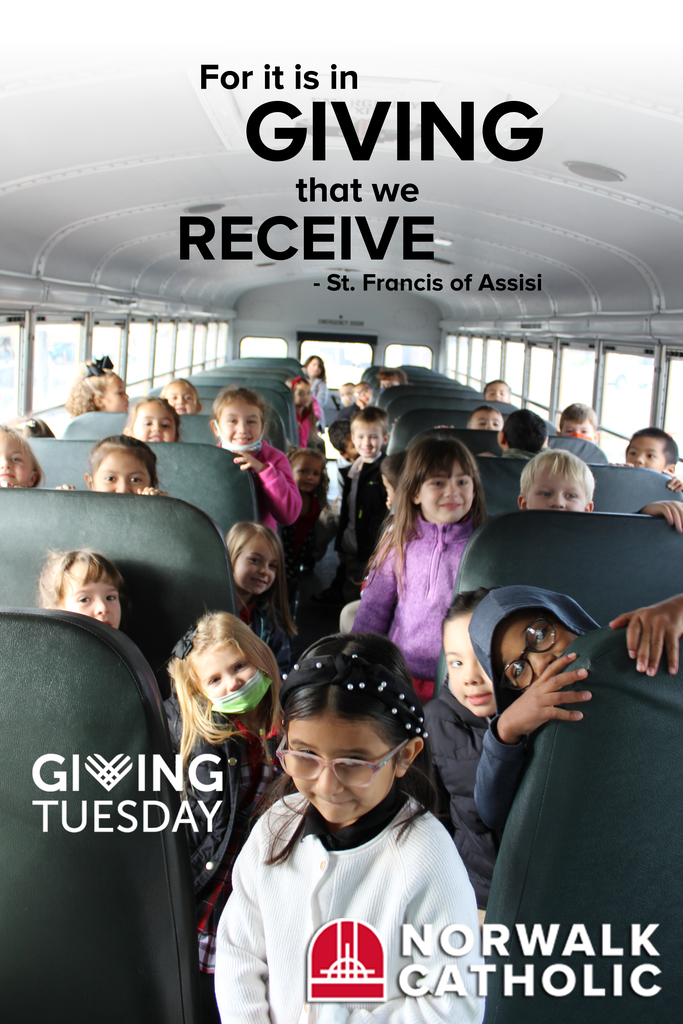 The biggest giving day of the year begins tomorrow. Will you celebrate the spirit of giving and support Norwalk Catholic? Your contribution to Norwalk Catholic's annual fund on November 30th is an opportunity to make an impact on our mission and help with everyday expenses. Click on the following link to participate in Giving Tuesday NorwalkCatholicSchool.org/GivingTuesday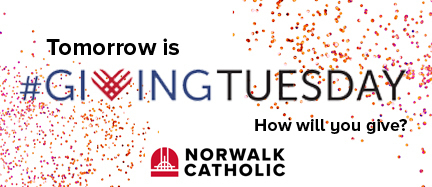 High School Students: Project Noelle is an organization to help children that have been affected by opioid addiction. This year the freshmen class is asking you to bring in toys for these kids this Christmas season. We will be competing through each grade, throughout the week of Monday, November 29 - Friday, December 3. Donations will be collected in your theology classes!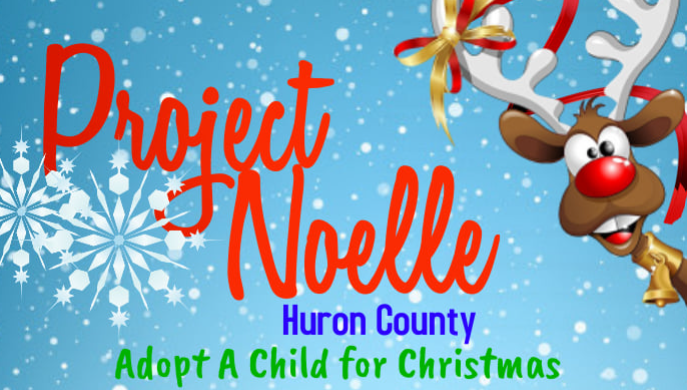 Happy Thanksgiving to all of our Flyer Family! Thank you for all you do for our Norwalk Catholic Community. We are truly grateful!


Early Childhood Turkey Trot 2021 Thank you to everyone that helped arrange this fun event! And thank you to all that attended!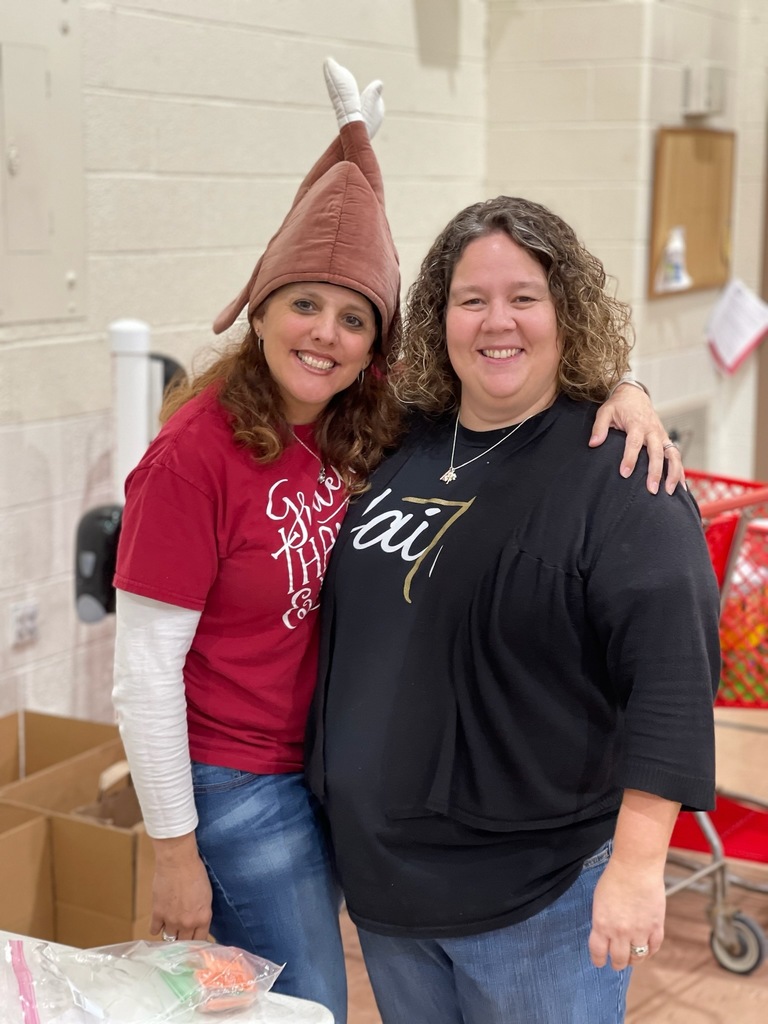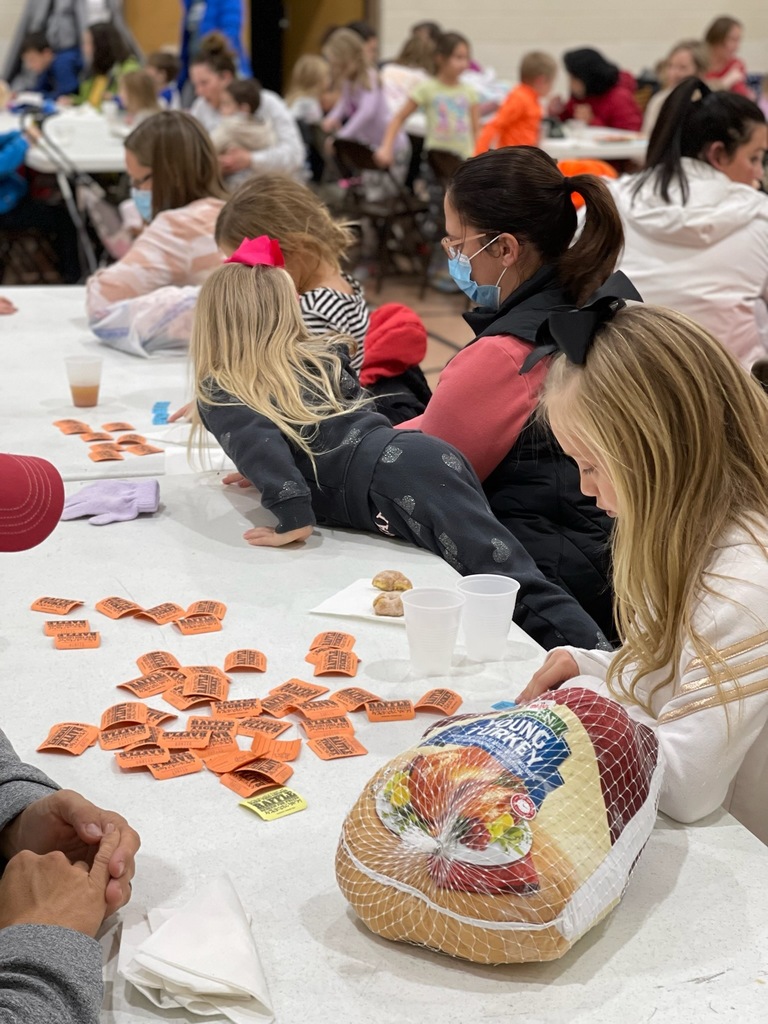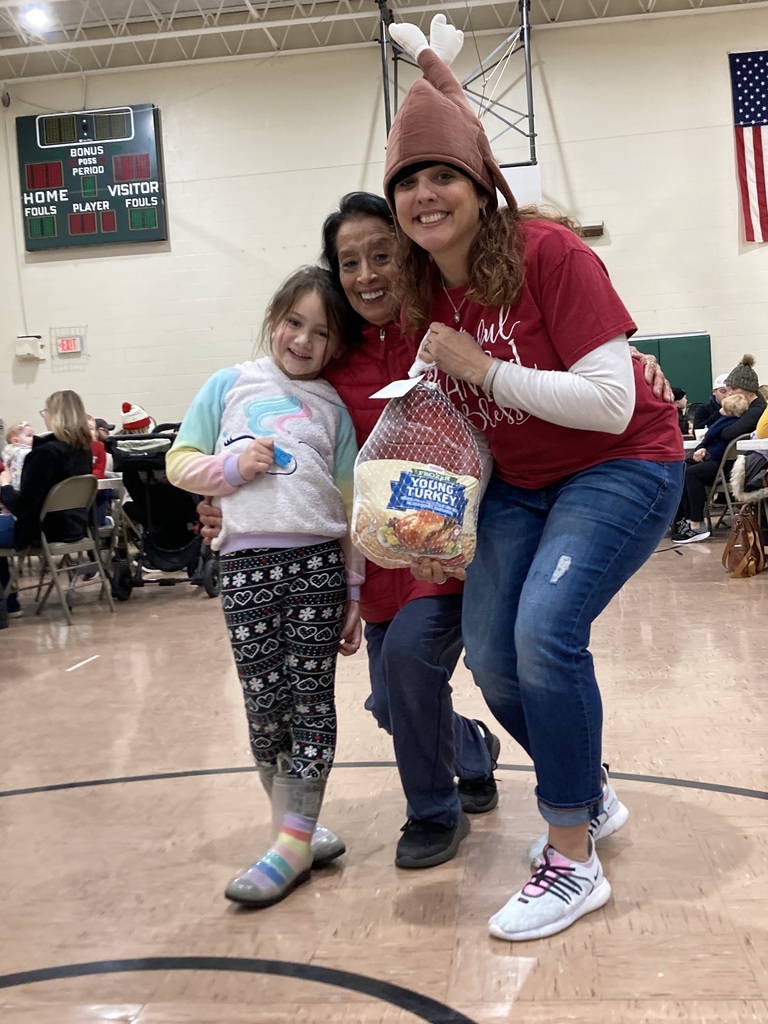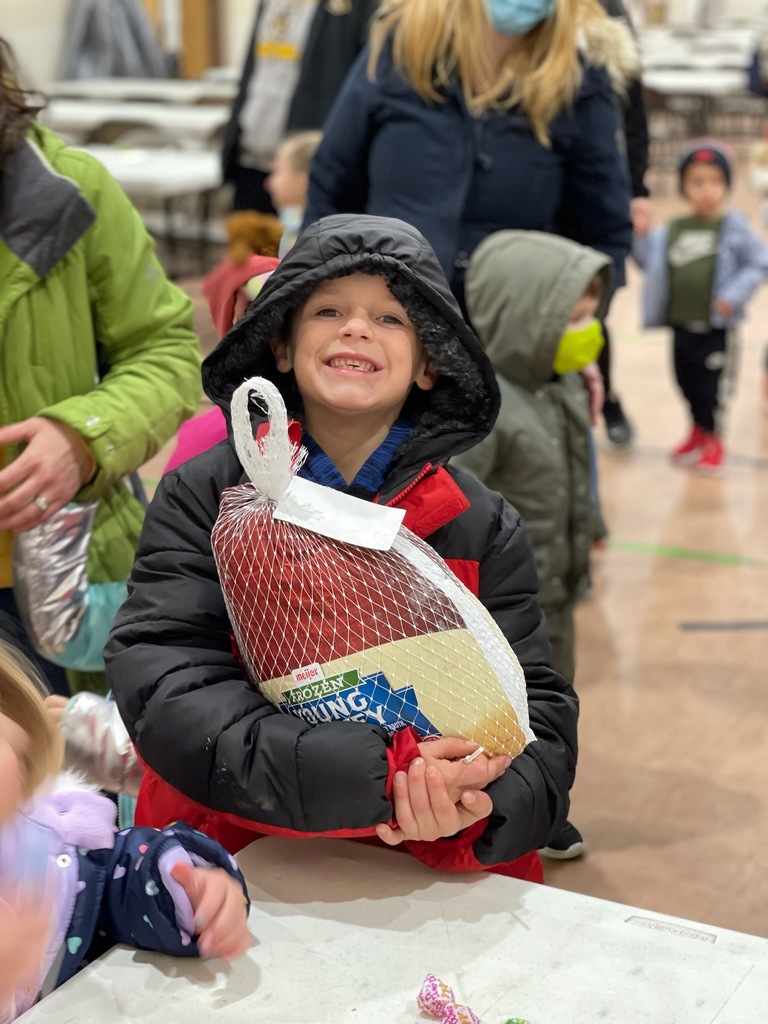 Giving Tuesday is just one week away. This year on Giving Tuesday, November 30, will you consider supporting Norwalk Catholic? Our goal is to raise $7,500 in 24 hours. Your gift will support Norwalk Catholic's every day operating costs. Gifts can be made at
https://www.norwalkcatholicschool.org/.../giving-tuesday
... Thank you for your support!