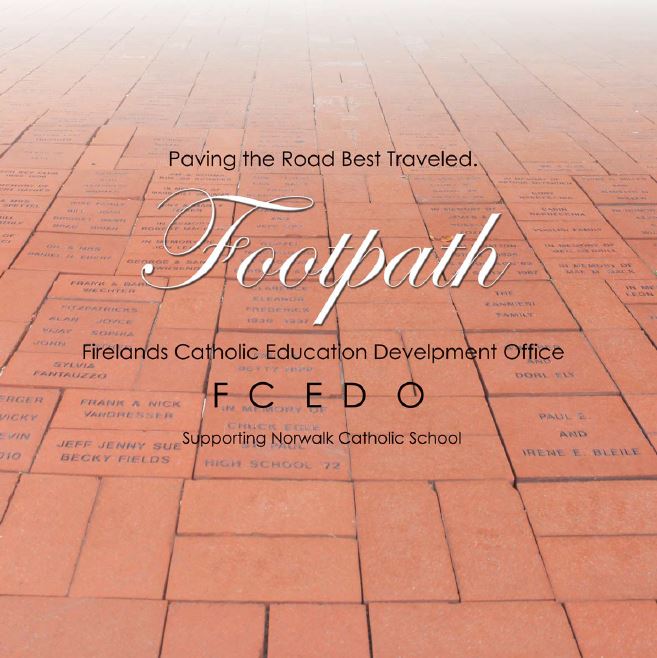 FCEDO Board Members
Tonia Maxwell

Chris Brown, M.D.

Martin Linder

Aaron Fries

Tip Hosack

Tim Mayles, CPA, CFE, CFF

Julie Roberts, D.D.S.

Patrick Schwan, P.E.

Mike Schwieterman

Sue Riley serves the board as Director of FCEDO (Endowment & Planned Giving)
For more information contact:
Sue Riley
93 East Main St.
Norwalk, Ohio 44857
419-668-7223 ext. 276
sriley@ncsmail.org
Founded in 1989, Firelands Catholic Education Development Office (FCEDO) exists to champion Catholic education and raise funds to help sustain and enhance Norwalk Catholic School. FCEDO endeavors to assure a quality Catholic education is available to all who seek it regardless of religious affiliation or financial ability
The FCEDO Endowment Fund provides a secure source of income to Norwalk Catholic School as the earnings are distributed annually to enhance the operating budget specifically for staff salaries.
FCEDO is a 501 (c)3 non-for-profit tax-exempt organizations; all contributions to FCEDO are exempt from federal income taxes to the fullest extent allowable by law.
We gratefully accept bequests from, and engage in planned giving opportunities with those individuals who wish to support Norwalk Catholic School by leaving a personal legacy for future generations.
Norwalk Catholic School/St. Paul High benefits greatly from two endowment funds. Endowment funds are a secure source of income for an institution. Funds are kept in perpetuity with interest and dividend earnings paid to the school. A planned gift to any endowment fund is a gift that lives on and on. Our two funds have like purposes in supporting Norwalk Catholic School but the philosophy and portfolios are somewhat different.
Our two funds are:
Norwalk Parochial School Charitable Trust
In 1978, Cornelius J. Ruffing set up a charitable trust fund to benefit the Norwalk Parochial Schools. The current value of the fund is $3 million. The trustee for this fund is the Citizens Banking Company. The supervisory board consists of Dennis Camp, Chris Hipp, and Gerald Reichert.
Norwalk Catholic School Endowment Fund
In 1999, the Norwalk Catholic School Endowment Fund was established by FCEDO. Over the years, the endowment has grown through the Legacy Grows Campaign, personal visits, annual fund donations, special events, and planned gifts.
Today the endowment fund has a market value of over $4 million. The FCEDO Board of Trustees enhances and manages the fund & faithfully allocates the earnings in support of Norwalk Catholic School/St. Paul High. A primary goal of the fund is to achieve just wages for our parochial school staff.
Thank you endowment donors! To date, $2.85 million has been distributed to Norwalk Catholic School.