During Mass today, our kindergarteners learned about sharing the light of Jesus during Advent.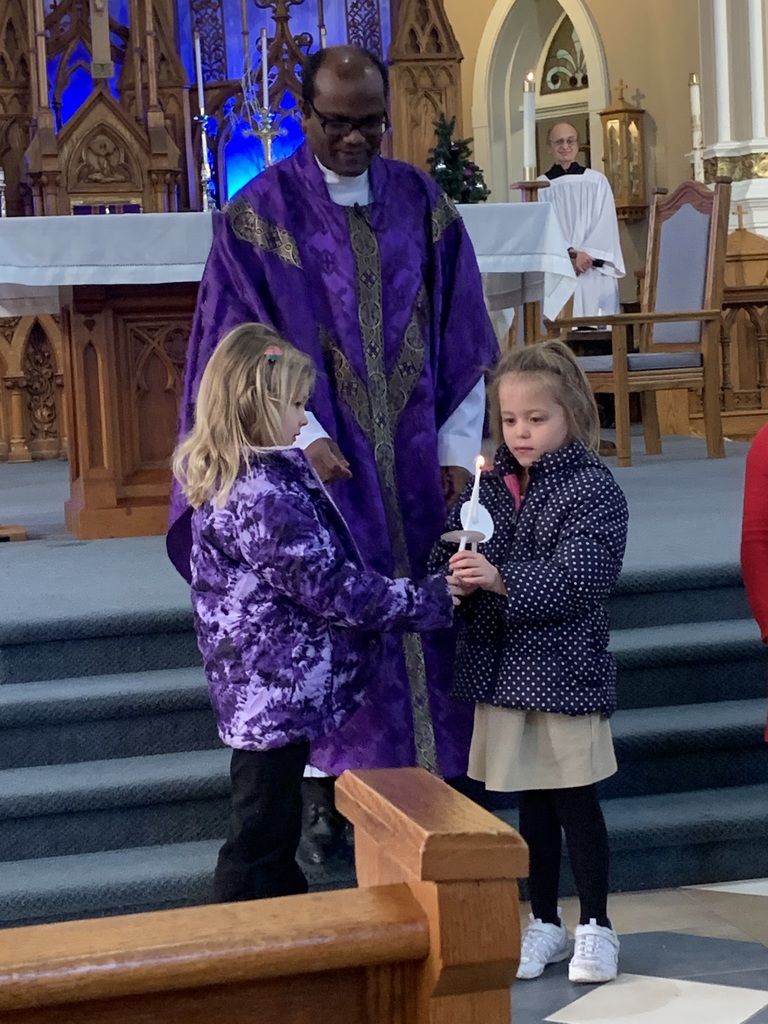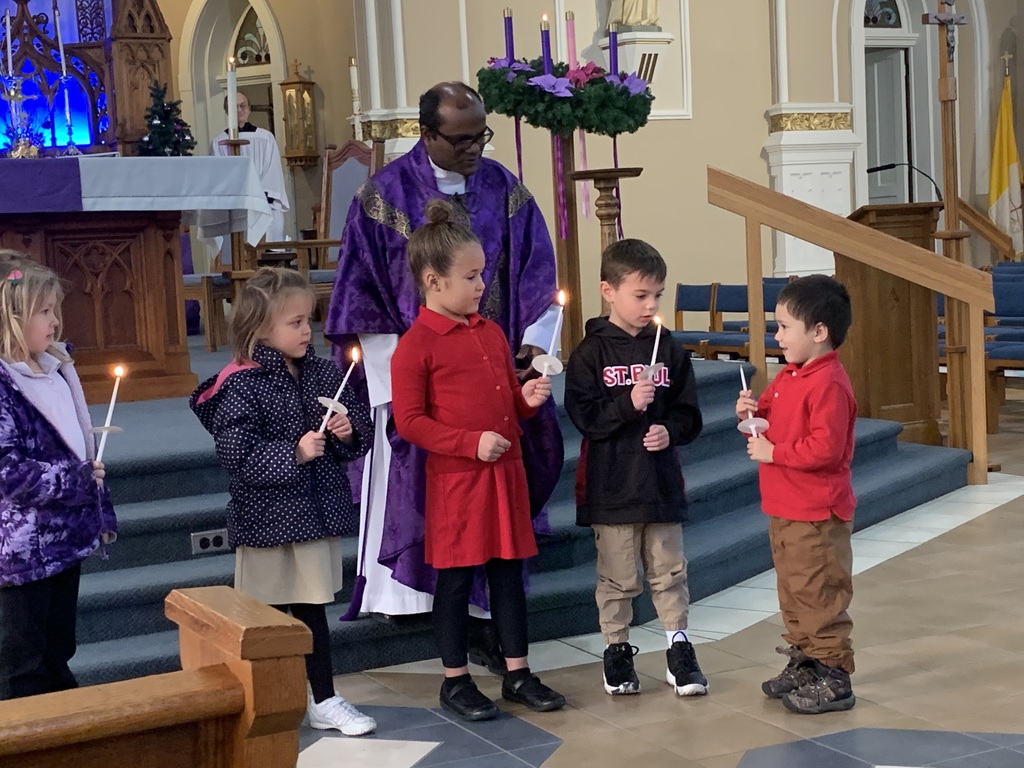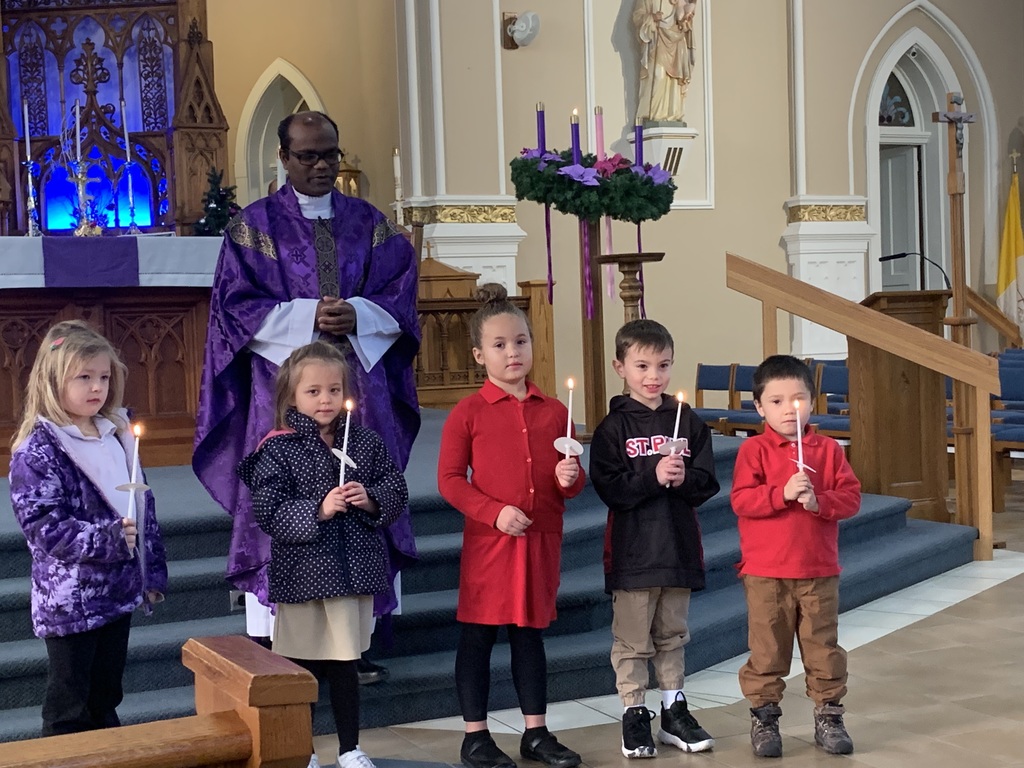 Senior Abbie Stine signed her letter of intent yesterday to run cross country at Heidelberg University. Congratulations to Abbie, your Flyer Family wish you all the best competing at the next level!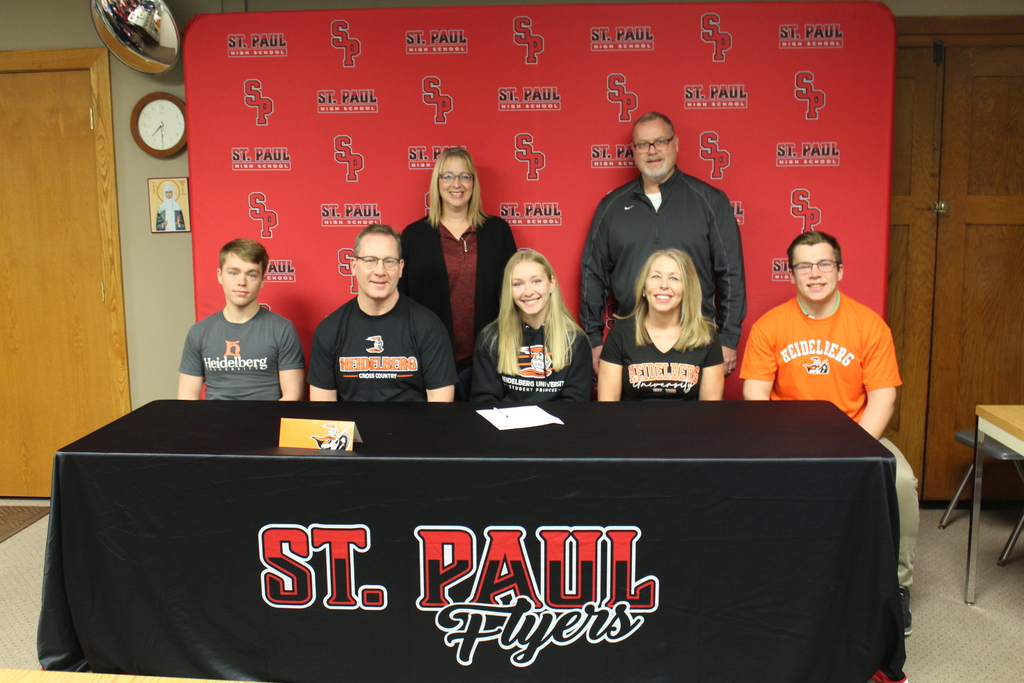 Winter Band Concert 2021 It is hard to believe, but concert season has arrived! This year, we are excited to have the band concert for the 5th Grade, 6th Grade, and 7th Grade bands at Norwalk Catholic and St. Paul Junior High. This year's concert will be held on Monday, December 6, 2021. Winter Band Concert 2021 Featuring the 5th, 6th, and 7th Grade Bands Monday, December 6, 2021 7:00 p.m. Joan C. Camp Auditorium (located in the Convocation foyer) Please drop off your child(ren) at 6:30 p.m. at the Convocation doors. Students should arrive, with instruments and music, and go to the cafeteria where they will be able to warm up, tune, and prepare for the concert. Students should dress nicely: a Christmas dress, polo, dress slacks, etc. Please no jeans or t-shirts. There will be a short intermission between each grade level's performance for people to enter and exit the auditorium based on their student's performance time. 5th Grade starts at 7:00 p.m. - - - 6th Grade starts at 7:20 p.m. - - -7th Grade starts at 7:40 p.m. If you have any questions, please contact Mrs. Faeth at
vfaeth@ncsmail.org
. Thank you! Mrs. Faeth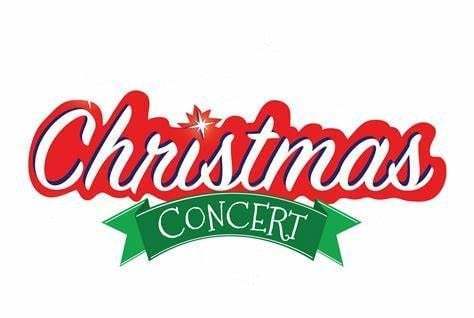 THANK YOU to everyone who supported the PTO's 5th Annual Calendar Raffle!! It was a HUGE success! The Grand Prize Drawing for the Flyer Families who sold 10+ tickets will be drawn on Friday, December 10th during PTO's Movie Night from 6-8pm at the Social Hall. One lucky ticket will be drawn for a chance to win either a $1,500 tuition credit --OR-- $1,000 cash prize! Good luck to the 152 drawing entries!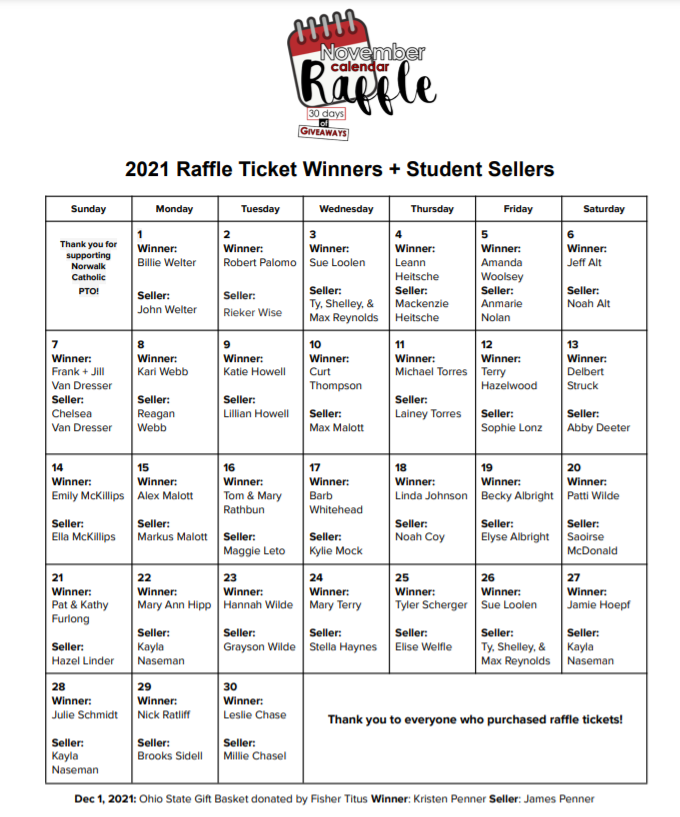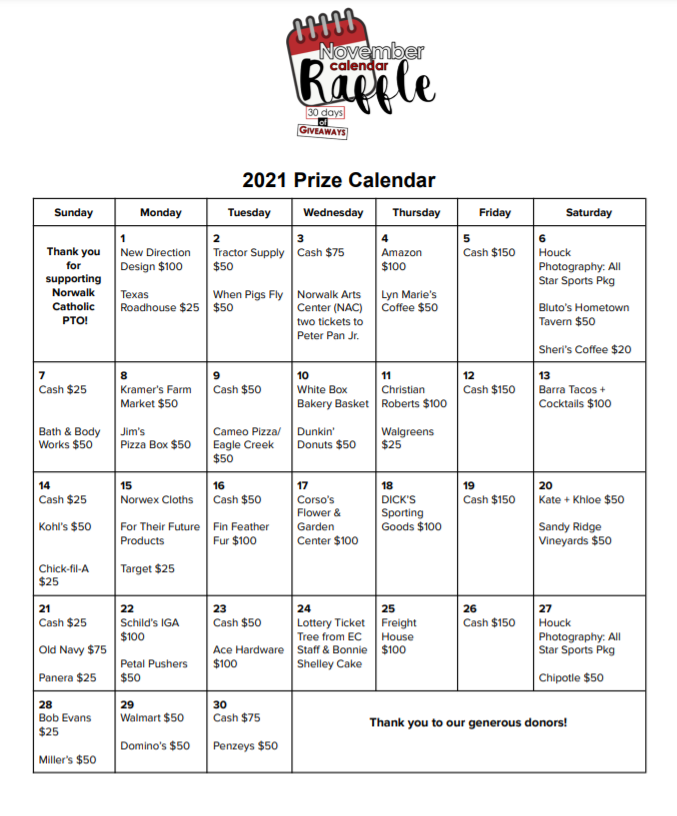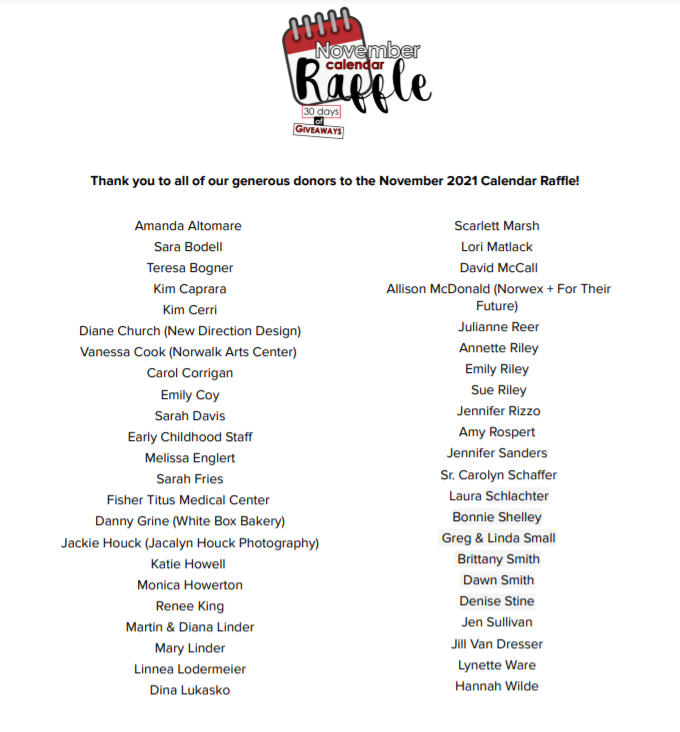 Thank you to everyone that participated and donated during our Giving Tuesday! Your generosity helped us to exceed our goal! We are so grateful to our Flyer Family who are invested in the Norwalk Catholic mission! May God bless you!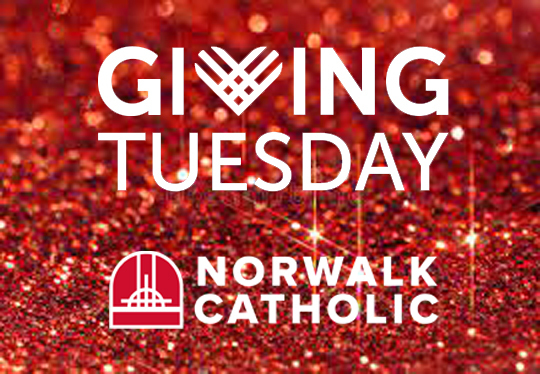 This Giving Tuesday, we ask you to support our Norwalk Catholic mission by giving online at:
https://www.norwalkcatholicschools.org/
Your contribution will make an impact, whether you donate $5 or $500. Every little bit helps.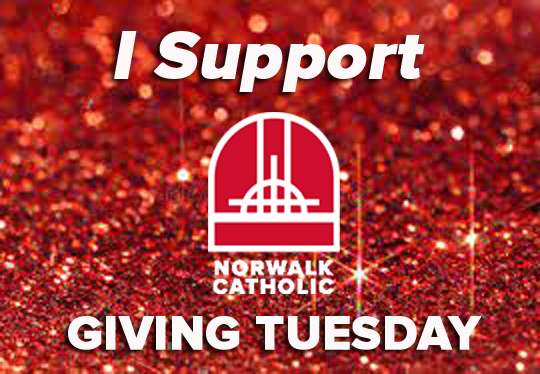 Norwalk Catholic supporters are the best! Many have contributed to our Giving Tuesday efforts - THANK YOU! Will you make a gift for a final push to reach our goal of $7,500?
https://www.norwalkcatholicschools.org/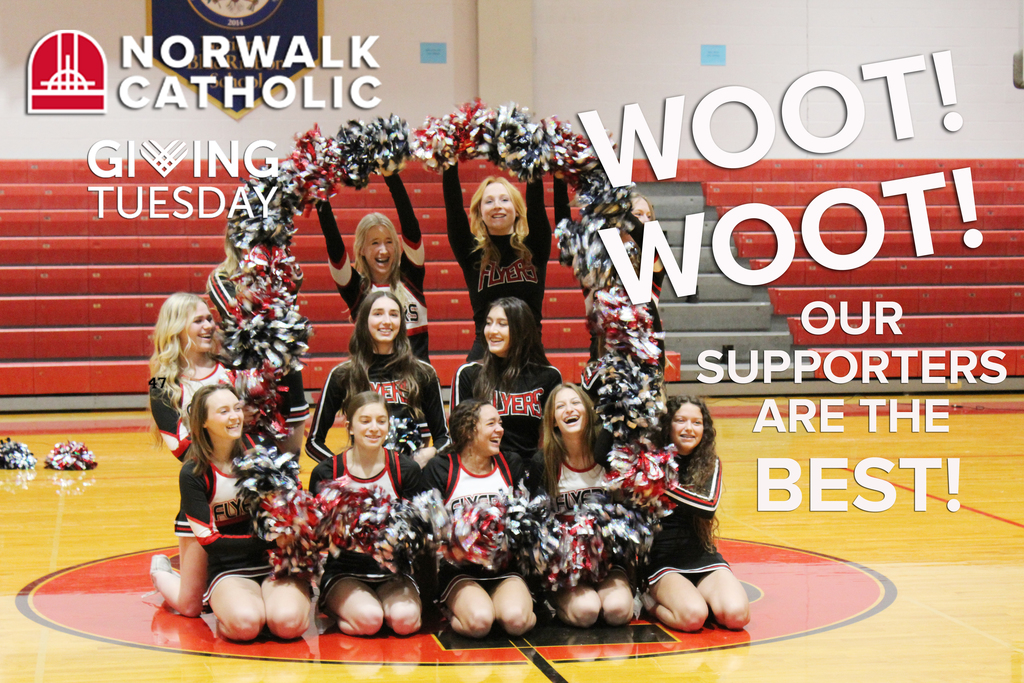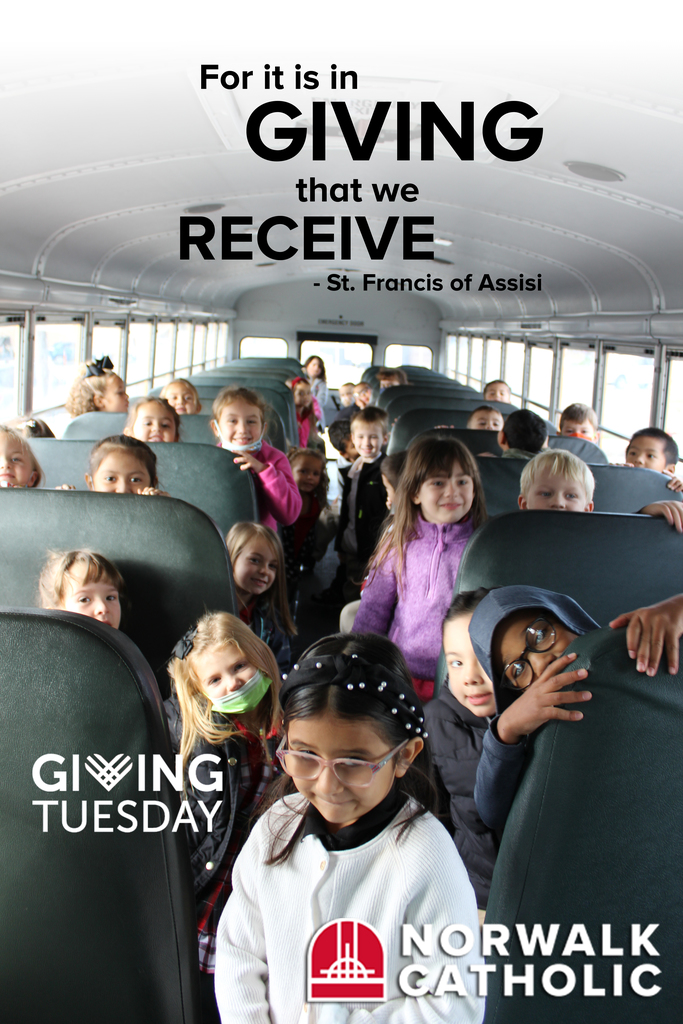 It's Giving Tuesday! Kick off the holiday early and support Norwalk Catholic. Our goal this year is to raise $7,500 in 24 hours. Will you help us reach our goal? Please consider giving a gift at NorwalkCatholicSchool.org/GivingTuesday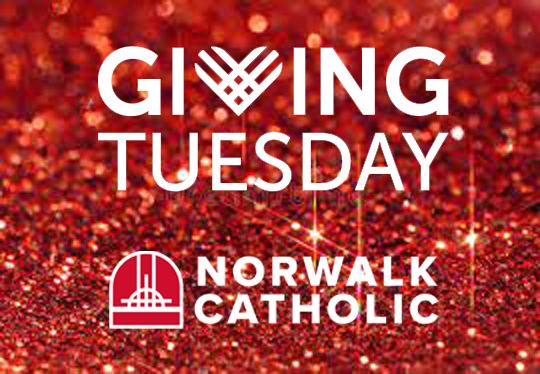 The biggest giving day of the year begins tomorrow. Will you celebrate the spirit of giving and support Norwalk Catholic? Your contribution to Norwalk Catholic's annual fund on November 30th is an opportunity to make an impact on our mission and help with everyday expenses. Click on the following link to participate in Giving Tuesday NorwalkCatholicSchool.org/GivingTuesday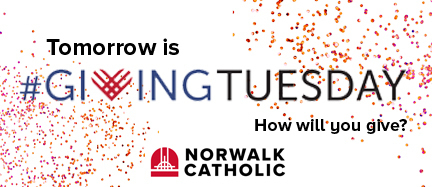 High School Students: Project Noelle is an organization to help children that have been affected by opioid addiction. This year the freshmen class is asking you to bring in toys for these kids this Christmas season. We will be competing through each grade, throughout the week of Monday, November 29 - Friday, December 3. Donations will be collected in your theology classes!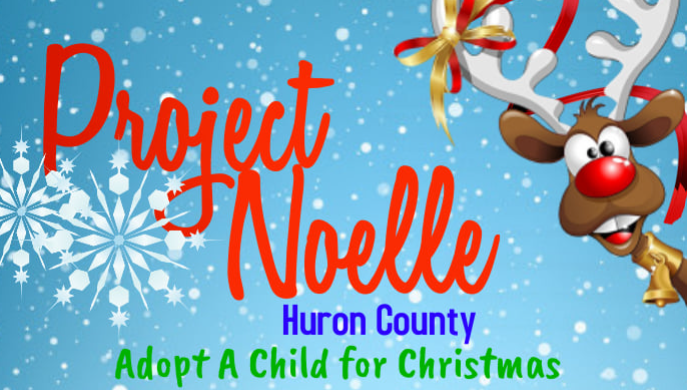 PTO invites parents to welcome the Holiday Season with beverages and food at the Parent Gathering @ the Elementary Cafeteria on Friday, Dec.10th from 6-8pm (Please RSVP by Dec 6th:
https://www.signupgenius.com/go/10C0F4FABAE2EABF5C52-parent
) while your child(ren) attend PTO Movie Night: Dr. Seuss' The Grinch @ the Social Hall from 6-8pm.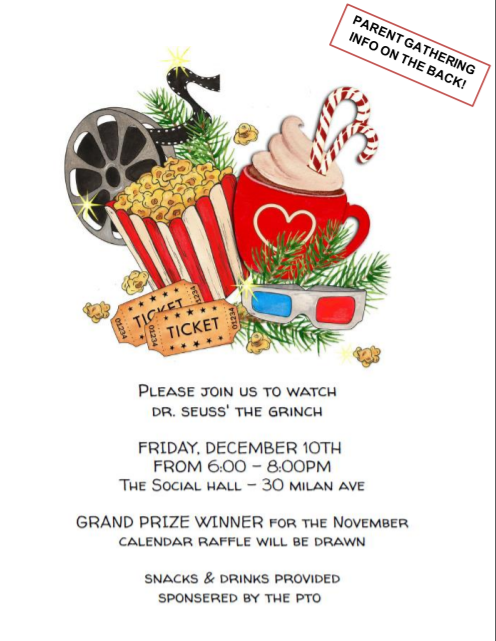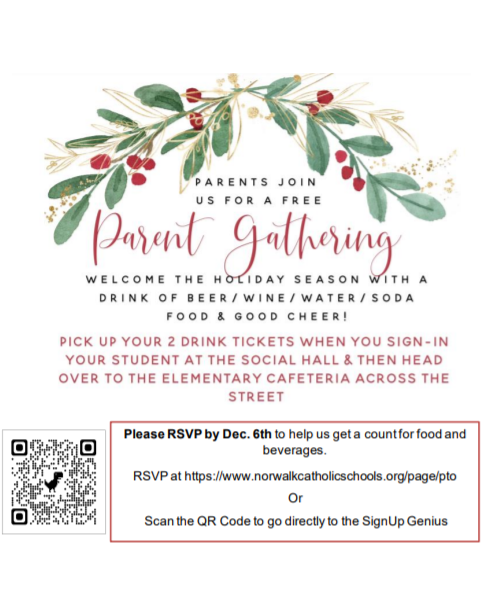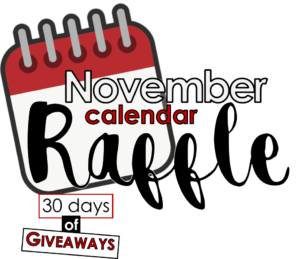 During the week of November 29th to December 3rd, Gage Hackenburg, Stephen McHale, Joseph Nill, and Bryce Wnek will be collecting items for the deployed Ohio based 447th Military Police Co for their senior project. More information can be found in the picture below.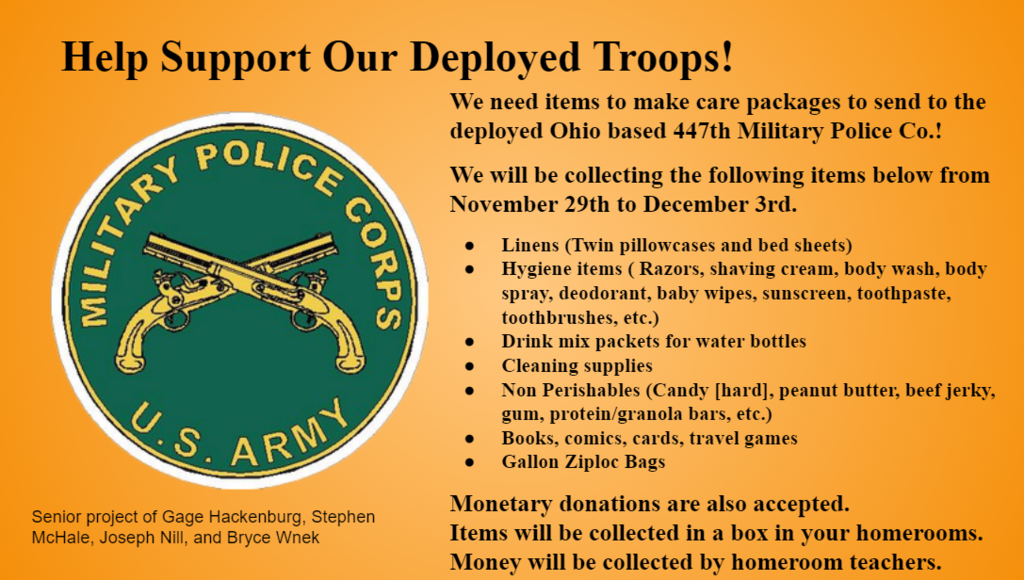 This weeks PTO calendar raffle winner: November 22nd Winner: Mary Ann Hipp Student Seller: Kayla Naseman November 23rd Winner: Hannah Wilde Student Seller: Grayson Wilde November 24th Winner: Mary Terry Student Seller: Stella Haynes November 25th Winner: Tyler Scherger Student Seller: Elise Welfle November 26th Winner: Sue Loolen Student Sellers: Max, Shelley, & Ty Reynolds. Winners can be found daily by going to
https://www.norwalkcatholicschool.org/PTOCalendarRaffle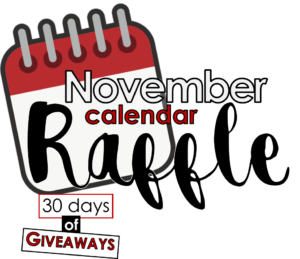 Happy Thanksgiving to all of our Flyer Family! Thank you for all you do for our Norwalk Catholic Community. We are truly grateful!


Early Childhood Turkey Trot 2021 Thank you to everyone that helped arrange this fun event! And thank you to all that attended!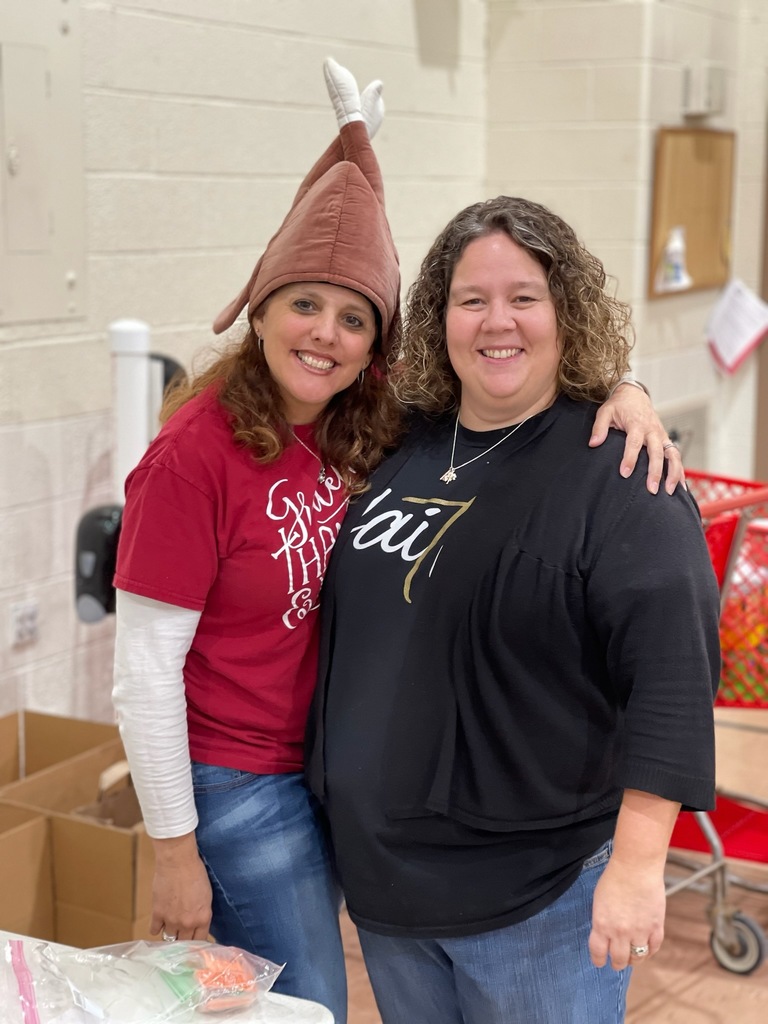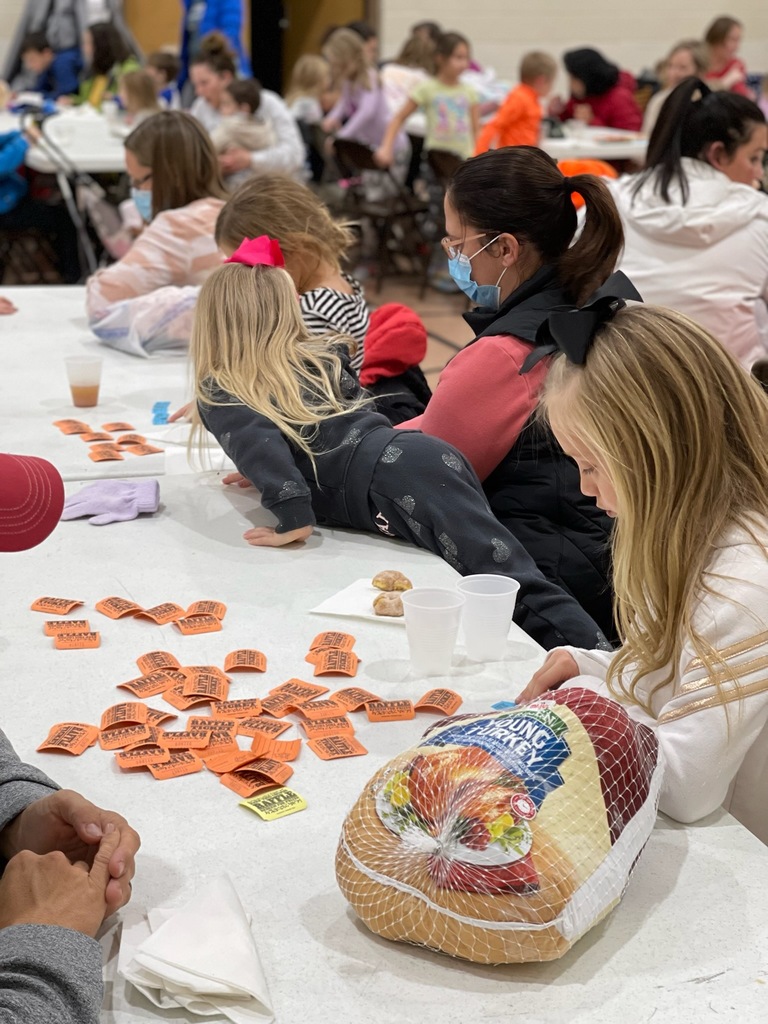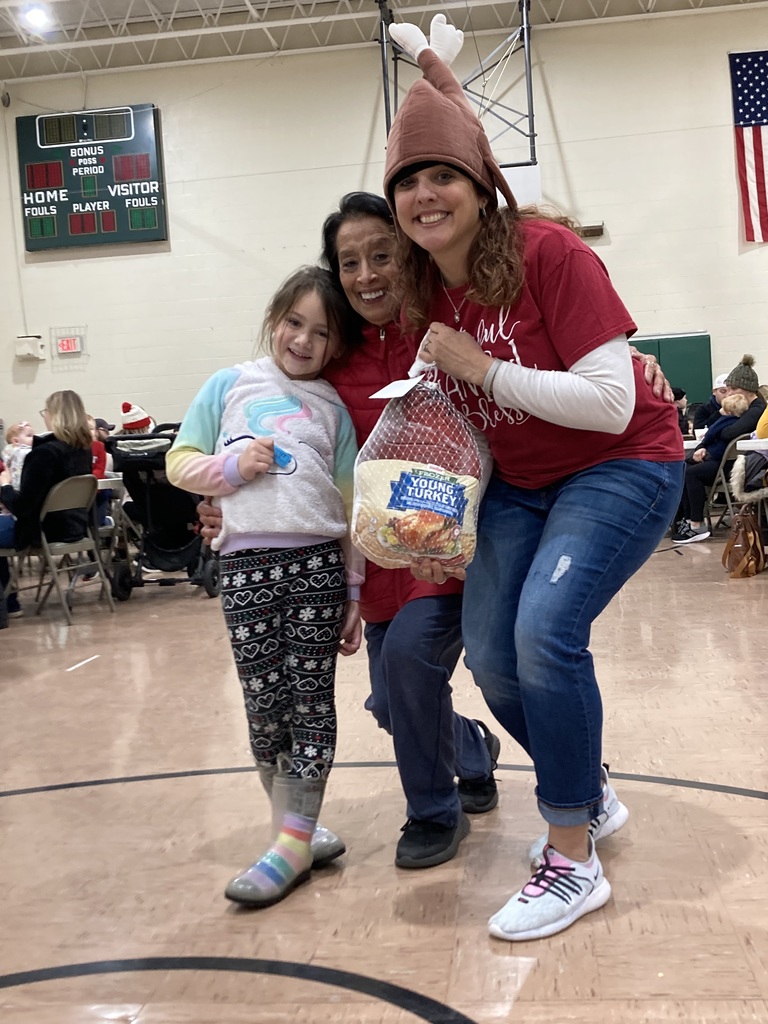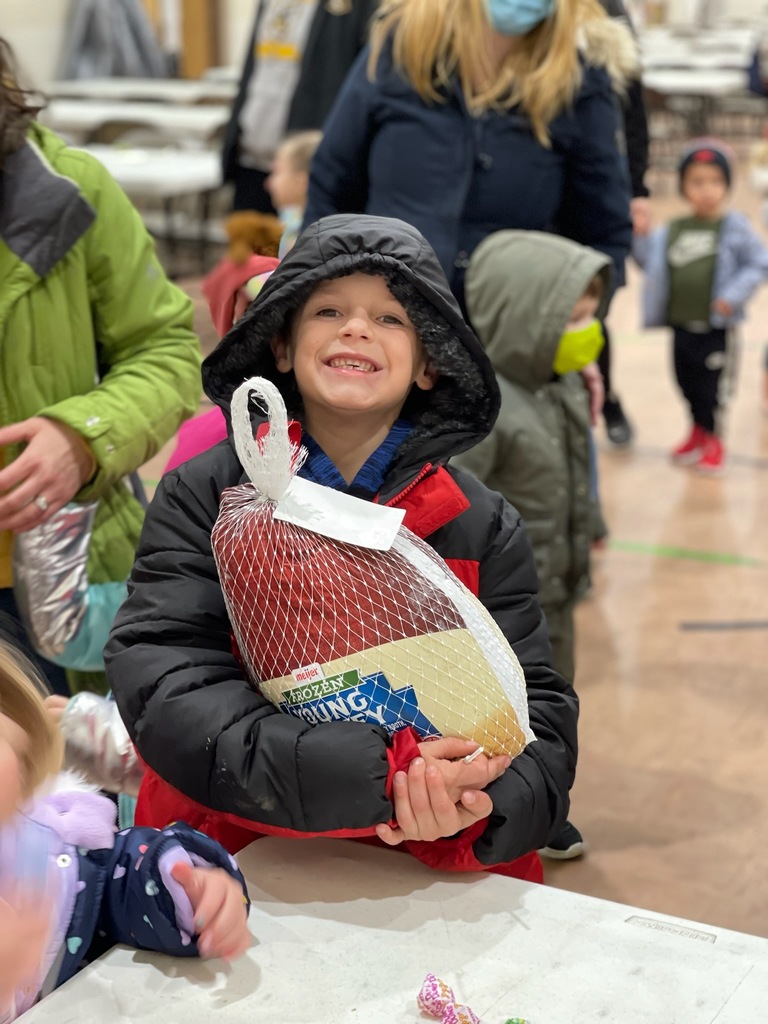 Giving Tuesday is just one week away. This year on Giving Tuesday, November 30, will you consider supporting Norwalk Catholic? Our goal is to raise $7,500 in 24 hours. Your gift will support Norwalk Catholic's every day operating costs. Gifts can be made at
https://www.norwalkcatholicschool.org/.../giving-tuesday
... Thank you for your support!